You need a comfortable adjustable floor chair
What do you want to do when you come home after a tiring day at work? I think lazy rest is what you want most, lying in a comfortable position, you can rest quietly, you can play games, you can read books, you can watch TV, and so on. waytrim provides you with this comfortable position, an adjustable and comfortable floor chair, to meet your various lazy needs.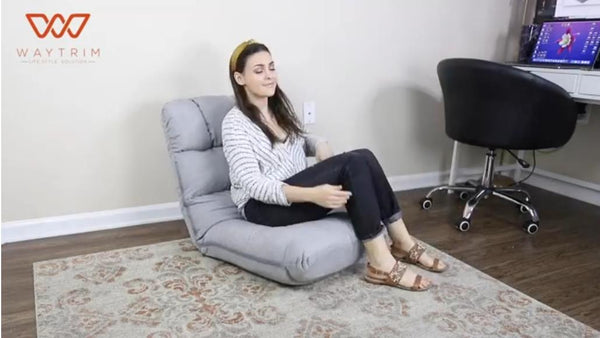 WAYTRIM floor chair can be adjusted to 5 positions. You are free to choose the angle you want or the angle that you think is most comfortable.
WAYTRIM Indoor Adjustable Floor Chair 5-Position Folding Padded Kids Gaming Sofa Chair, Perfect for living room.
If you are in search for a floor chair that can be used by your whole family, then this one can be ideal for you.

It can release back fatigue and is an excellent seating for different floor activities like reading, watching TV and playing games.

1.WAYTRIM floor chair has a zipper that you can unzip whenever you feel the need to clean the sofa. You can open it and pull out the cover and wash it.
You won't need to worry about cleaning your sofa chair anymore because it is effortless to clean. Despite the durability and strength of this chair, it is versatile and lightweight.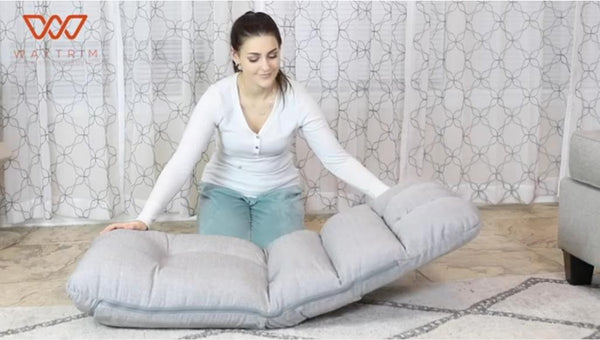 You can easily carry this around wherever you want, and you can set it up on any surfaces that are dry and clean.

This chair can also be used in small spaces.

2.Specifications:
Material: Fabric + Recycled Cotton + Metal Frame
Flat Dimension: 47-1/4 in (L) x 23 in (W) x 6 in (H)
90°Folded Dimension: 23 in (L) x 22-1/2 in (W) x 26-1/2 in (H)
Adjustable Angle: 90°-180°
Net Weight: 11.79 lbs
Shipping Weight: 13.89 lbs
Product description
Color:Grey