Top 3 Shoebox in WAYTRIM
The shoebox is rated as one of the most popular organizing supplies, and it is a safe storage solution. A shoebox will keep your shoes well protected. However, this article will tell you how to choose the right shoebox for your shoes.
Foldable Shoe Box - Stackable Clear Shoe Storage Box - 12 Pack- White
With over 2,500 positive reviews, it is currently one of the best selling shoe boxes in the store. Stacking Storage Shoe Box help to simply organize closets and living areas, folding design makes each one easy to put together and folds into shape. When not in use, quickly unfolds for easy and convenient storage to save space. Overall Assembled Size: 13(L) × 8.9(W) × 5.4(H) inches, facing the messy shoe storage space, this stackable shoe box can be the best choice. It can meet the size of US 5.5-US 10 shoes. It has a better value for money and a high repurchase rate.

Real reviews of buying customers
180 boxes ordered! Not one piece missing or damaged in any way. Assembling was easy and even enjoyable in it's own way. They are sturdy, versatile, and make it easy to find the shoes I want. I have nothing but good things to say about this purchase. Well done WAYTRIM!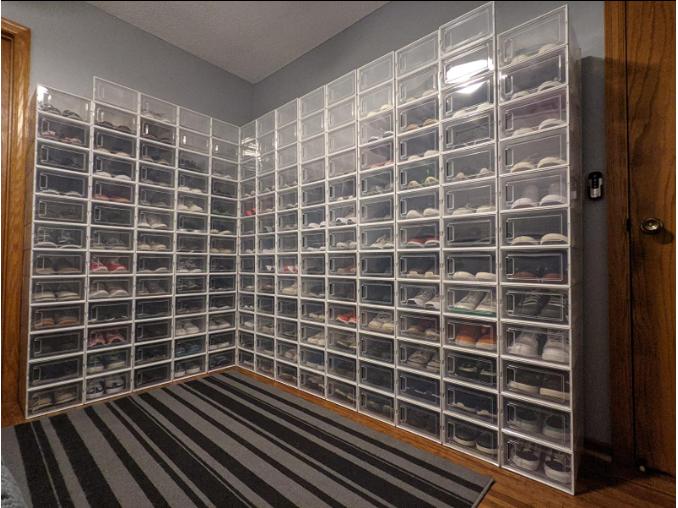 Foldable High-Heeled Shoes Box for Organizing Women Shoes - 8 Pack - White
This shoe box is designed for women who love high heels. The general height of the shoe box is difficult to meet the storage of high heels, but this one has a higher shoe box size, overall assembled size: 14.2(L) x 11.1(W) x 8.2(H) inches. Ventilation holes allow for air circulation and odor prevention. Boxes are strong, durable, and washable, stack multiple units to maximize storage. It can meet the storage requirements of an 8-inch high heel, allowing beautiful girls to never have to worry about dirty or damaged shoes. 
Real reviews of buying customers
Assembled in less than 15 minutes. Fits most shoe heights—namely high top sneakers & ankle boots. Excellent product. Allows you to see all the shoes that you own. Great for sneaker head collectors. Looks great & is sturdy. My husband is using these to store all of his size 10 Nike Jordan's.Very sturdy and some fit two pairs of shoes if they are not high tops. Perfect for organizing off-season shoes or even for use every day.
Boot Box Storage Containers, Foldable Clear Storage Shoe Box - 8 Pack - White
The storage problem of tall boots exists in every family. Warm winter high boots and waterproof summer rain boots are good choices, but storage can be a problem. That's all right, we'll let the problem go. Overall Assembled Size: 20.5(L) x 11.8(W) x 5.5(H) inches, fits most women's shoes over size 10 or 20 inches in height.These shoe storage boxes are made of soft plastic and the door frame is made of hard plastic. When the two are combined, they become very strong. In addition, the plastic board will keep its shape, prevent deformation, so is more reassuring.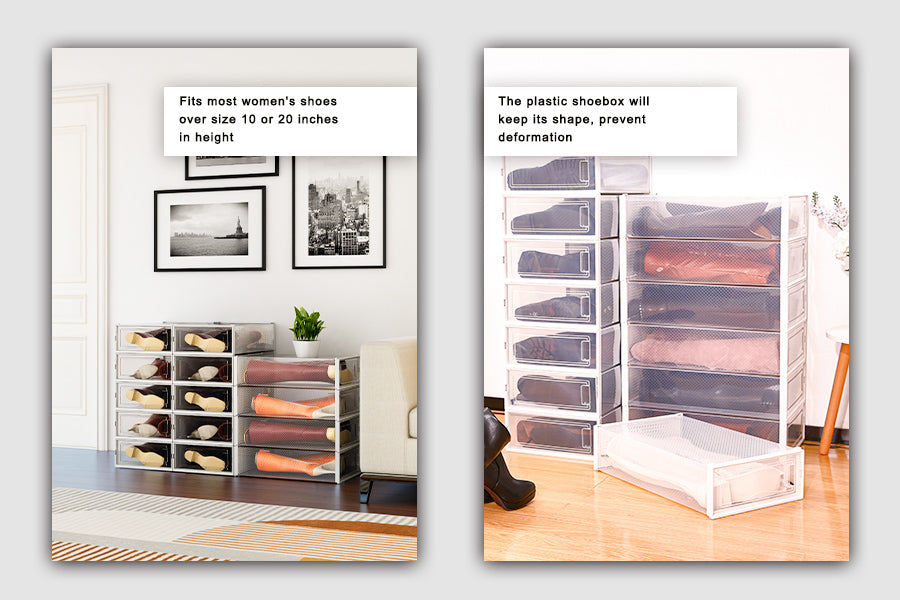 Real reviews of buying customers
I normally don't give reviews. But I have to in this case. I have a to say I'm very impressed with this product! At first I had a slight problem with putting the boot box together. The trick is to after you get the form squared it up pull the tabs down on each side the top and bottom,then put the bottom on it will click in place. Then do the top checking to make sure they are stacking the way you want them to. If it doesn't click you've done something wrong. Start over. Once you get the first one going it's a breeze after that. I absolutely love them order the shoe boxes and they are just like the boot box same method for putting together. Hope this helps anyone having issues trying to figure out.